The FRAGG Impact Growth Accelerator Programme (FIGAP) is an initiative structured, in partnership with the African Guarantee Fund, to close the funding gap for SMEs in West Africa, by providing support to companies and projects in the impact and climate sectors that are at expansion stage, in order to prepare them for the financing needed to scale.
FIGAP is designed as a business development programme to provide support to participants with business strategies, growth and scalability tools required to become investment ready. The programme serves to facilitate enhanced access to finance needed to scale-up and build a successful lasting business structure.
The programme will culminate in a networking event with investors, business leaders, and corporate decision–makers in order to foster interaction with prospective investors.
What to Expect
Business Assessment: An accelerated proposal assessment programme to help determine suitability of your business for financing
Company Support: Tailored support in capacity building, and preparing a clear plan of how to scale and access capital
Mentorship: Access to mentors and industry experts to offer advice
Investment Support: Access to a pool of potential financiers and investors, with support in identification of, access to and engagement with potential and relevant investors. Additionally, an opening for provision of African Guarantee Fund (AGF) guarantee, and access to funding from the FRAGG Impact Fund.
Programme Curriculum
Strategic Business Planning | Financial Management | Capital Raising
Product Development | Market Expansion
Risk Management | Internal Audit | Control
ESG Evaluation, Monitoring, & Reporting
Application Criteria
We are seeking per cohort, 20 ambitious, innovative, and growth-stage impact businesses who are committed to combining financial returns with discernible social and/or environmental impact. Businesses must:
For-profit, post-revenue business seeking a minimum of 250,000 USD as growth-funding
Have at least 75% of its activities in West Africa (applications from Nigeria, Benin, and Togo will be prioritised)
Have existed for at least three years
Have a full-time dedicated, diverse and inclusive management/staff with reasonable ratio of women and youth
Have a scalable and innovative social impact business
Have a turnover of at least 1 million USD
Be open to raising external investment
Are you ready to accelerate your business to success?
Click here to fill application form
Target Impact Sectors
Inclusive Finance & related FinTech Services
: Including Microfinance/SMEs Banks, Finance Houses, OFIs, Commercial Banks, Payment Solutions, and other Financial Technology Solutions.
Agriculture
Agribusinesses covering the entire agriculture value chain, including but not limited to food production especially small-holder farming, food processing and storage, packaging, distribution (transportation and haulage), and wholesale/retail market (export or domestic).
Healthcare & related services
From diagnosis to treatment and core areas of health management and prevention, including but not limited to general and specialised hospitals, primary health care centres, pharmaceuticals, HMOs, and health technology.
Affordable Housing
Housing projects that increase access to practical and viable housing especially for earners on the lower end of the spectrum. Sustainable and energy efficiency housing projects are of particular interest.
Climate Finance
Projects covering climate Mitigation, Adaptation and REDD+ (reducing emissions from deforestation and forest degradation). Projects including but not limited to Renewable Energy, Lower Carbon & Efficient Energy Generation, Waste Management & Recycling, Non-Energy GHG Reductions, Sustainable Transportation, Water & Waste Water Systems, and Coastal & Riverine Infrastructure.
Education
Inclusive education models with projects covering low-fee private education in preparatory, primary, secondary, tertiary, and vocational institutions, education technology (EdTech), educational infrastructure and related services.
Programme Promoters
FRAGG Investment Management Limited is an impact investment management and advisory company specializing in the management of funds targeting investments in the impact and climate domains. We work with financial institutions, impact projects, businesses and other actors in the impact and climate finance domains in the West African region to raise new capital and support business growth.
Using a triple-bottom line approach, our main target is investing in and mobilising funds for high-growth companies in Nigeria and West Africa that promote social and environmental impact. Our goal is to make a strong financial return for investors while supporting companies that are contributing to a better world.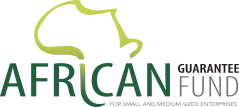 African Guarantee Fund (AGF) is a pan-African provider of financial guarantee to capacitate SMEs and enable them play their role as engine drivers of the continent's economic growth.
AGF offers financial guarantees in support of: Loans by Partner Lending Institutions (PLI) through hybrid approach; Equity Capital Financing for SMEs; Resource Mobilisation through issuance of bonds/notes and lines of credit by Partner Lending Institutions (PLI) in support of their SME financing activities; Capacity Development Support to PLIs.
Application Form
Instructions
The completed application form will give us as much insight into your company as is necessary to appraise the state of the business at the time of your application, please provide the most up-to-date information.
Please note that application can be submitted either by filling the form at the bottom of the page or by clicking the "Apply" button which will take you to the same form on the F6s platform. Both forms are the same and you can fill one or the other, not both. Application from both platforms are accorded the same status.
Before sending in the completed application form, please ensure that you have read through the following instructions:
Read through each question carefully and provide only information that is true and for which you have supporting documentation where applicable
Where options are provided, please select the option that best answers the question for your organisation. Where more than one option applies, fill the others in the space provided, if available.
The questions provided will provide insight into the eligibility of your company for this programme. Note that further documentation will be required after this stage of your application.
All application must be submitted by 06:00 pm, 31 August 2020. Applications submitted later than this date will not be eligible for review.
The form works offline too so you don't have to worry about losing data if your internet gets disconnected or you have to leave the form for a moment. Ensure that the browser tab remains open to be on the safer side.
Please send all enquiries to accelerator@fragginvest.com
Call Us Now
+234 806 519 2718
Emal Us
info@fragginvest.com
45b, Oluwaleimu Street,
Off Allen Avenue, Ikeja, Lagos.